Mothers stuck at home with young children find way to keep busy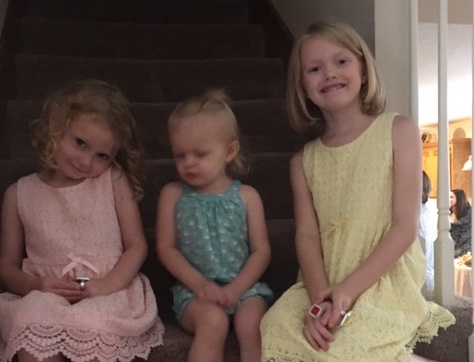 All around the world, mothers are stuck at home with their young children, including Erica Barnes, who has to find a way to entertain her children. Barnes has three young daughters, Sophia, Scarlett and Sage, all under the age of eight.
The coronavirus has kept millions of people home and some with young children. These parents have to find a way to simultaneously entertain their children and keep their own sanity. 
Erica Barnes is one of these mothers that has to find a way to keep her kids busy. Three daughters can be a lot to handle, especially when she is stuck at home with them. 
"It's been interesting," Barnes said. "I have always been a stay-at-home mom, so I have some tricks up my sleeve. The first thing I did was make a chart to help us stay motivated."
Barnes has a lot of free time to fill up for the kids, which can be difficult for three daughters. However, Erica has a system for this.
"The chart has stuff like reading a book, doing homework, brushing my hair and exercising," Barnes said. "They don't always do everything, but the more they choose to do the more 'money' they earn to spend in my little "store," which is like candy, cool pencils and Lego mini-figures for a top prize."
Barnes has found some creative ways to entertain the girls and spend the time that they have. Their teachers have sent them activities to do.
"Their school started to send emails that said they won't be adding grades, but the kids should spend about one hour a day of school work for kindergarten and two hours for second grade," Barnes said.
Barnes picks activities that the teachers send them. The teachers send choice boards and morning messages. Barnes follows the chart so that their days are organized. 
"I have them help me 'clean' something," Barnes said. "I use the term loosely with three young children. I basically just have them help me with dishes, laundry, etc. The teacher also gave me their iPads." 
Barnes has found many ways to keep herself and her kids busy. Barnes has a routine that works for her and her children.
"We also participated in a neighborhood scavenger hunt," Barnes said. "Something to look for in people's windows. It's supposed to help us feel connected to our neighbors while we social distance."