Should basketball seniors have one more chance?
Coronavirus has ended senior years in heartbreak, but college basketball should not.
Sports have been a part of my life for a long time. Since I was little, my dad would teach me everything to know about basketball. By the time I was in middle school, I could probably tell you almost all the rules of the game. My life has revolved around my love for watching the game, and I can only imagine how heartbroken the senior players are.
Imagine that it's your last shot for a championship, one last trophy to leave your mark in your school's history. But then, all of that gets taken away from you right before you can even start.
The players aren't the only ones having a rough time as well though. The NCAA lost a lot of money from having to cancel the Big 12 tournament.
The Big 12 is one of the most anticipated sports events of the year, drawing in $800 million (which is more than 70 percent of the NCAA's annual budget).This makes you think that since men's college basketball is such a prominent sport, they'd allow players to come back for one last season. This is not the case though.
The NCAA has announced that all spring sports players will get an added year of eligibility. The Division I Council "members declined to extend eligibility for student-athletes in sports where all or much of their regular seasons were completed," the NCAA stated.
While most to all the college basketball teams completed their seasons, the final tournament is the most important part.
"Once the tournament was cancelled, it took me a while to realize my career was over just out of nowhere," said Utah State senior guard Sam Merrill in a USA Today article. Merrill led the Aggies to an automatic bid to the NCAA tournament. "Everything we worked for last summer and this season was based on getting back to the NCAA tournament, and it's tough to have that opportunity taken away by an unfortunate circumstance out of our control. We felt like we could do something special. Now that's gone."
The NCAA tournament is the peak of the season for all players. They struggle and grow throughout the season for their shot to the top of college basketball.
People who aren't fans may wonder why players are so disappointed, but regular season fans of these teams feel the grief as well.
"My five seniors will never get to experience hearing their name called on Selection Sunday, creating memories that will last forever, that they could tell their kids about," East Tennessee State coach Steve Forbes said, according to the same USA Today article. "In my opinion, every senior should have the right to come back. I know it's not going to happen. But you know what it's how I feel. They had this experience taken way from them and they've got nothing to do with it."
More than 800 college basketball players would have competed across 14 sites in the three-week tournament, according to USA Today, with at least 100 of those players as seniors.
Personally, I agree with Forbes. The seniors should have the right to come back for another season. Not only was an incredible experience taken for them, but it also may put some at a disadvantage if they are planning to go pro.
"In a way, it is heartbreaking because it feels like unfinished business. Playing in the NCAA tournament last year was the best experience of my life." Bradley senior guard Darrell Brown said to USA Today. "We felt like we could upset some teams and go on a run this year. But this is a team sport and I know the legacy I leave some of the younger players is an impression of what it feels like to be a winner. You try to rest knowing you left something behind."
About the Writer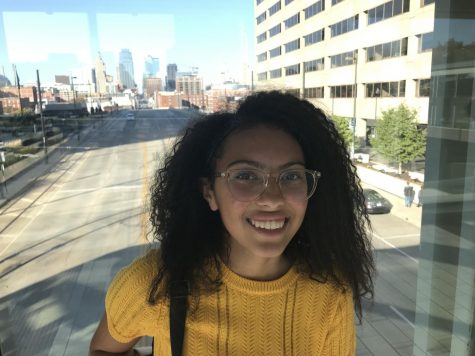 Mary-Kathryn, Staff Writer
Mary-Kathryn is a freshman at Bishop Miege High School. She has been learning about journalism over the semester and is preparing to apply it to real stories....