Throughout the summer Taylor Swift fans from around the country were selling out her Eras Tour, buying outfits, making friendship bracelets and screaming Swift's music at the top of their lungs. 
Swift performed at Arrowhead Stadium on July 7 and 8 causing quite a ruckus in Kansas City. With her sister, senior Emma Hansen spent days making her outfit, a recreation of a dress Swift wore on a previous tour. 
"My sister dressed up like 'Reputation' wearing a black dress and black furry sleeves," Hansen said. "I saw a bunch of outfits inspired by the Lover Era, and a lot were recreations of her famous looks from music videos."
Seniors Alexis Buzan and Norah Carney agreed that the opportunity to see the concert with their friends and family made the experience a lot more enjoyable. 
"It was really fun going with them because they both love Taylor Swift just as much as I do, so no one was bringing down the energy," Buzan said. "It was really nice getting to sing and dance with them."
The concert's atmosphere was one thing that compelled thousands of people to flock to the concert. Buzan felt safe and a sense of caring among fans. According to sophomore Mateo Gajewski, seeing so many people who all came together for one common purpose was exhilarating. 
"Everyone was very nice to each other while they were trading bracelets, and there was nothing bad like fights, or people yelling, " said Gajewski. "Everyone was really kind to each other."
During the show, Swift took the audience through her different albums (eras) and sang some of the crowd's favorites. Gajewski said his favorite performance was "The Man" when the dancers dressed up in suits. Carney said the whole Reputation Era was her favorite, in awe from the light show throughout the crowd.
"I went into the concert not knowing what it was going to be like, so pretty much all of it was unexpected,"  Gajewski said. "There was one part where flames were coming out of fixtures and you could feel the heat in the stands." 
However, some people did not get to fulfill their dream of getting their hands on the concert tickets. Junior Oliver Busenhart took an alternative solution to experience Swift live. Friday, Oct. 13, the U.S. will be granted access to see "Taylor Swift: The Eras Tour" film. 
"The point is, for all the people that couldn't go to the concert, or the people who have seen it have the opportunity to experience it again," Busenhart said. "Having a concert with such high-quality sound and footage in front of you at a movie theater is just amazing. 
From crashing AMC's website trying to get tickets, to dressing up and making more friendship bracelets, Swifties are using the film as an extension of the real concert. 
"I should be able to get a close experience to what it was really like, I just hope people will be screaming and cheering as loud as I'm going to," Busenhart said. "I think there will be a lot of screaming, clapping and singing. Hopefully, we can all belt 'Cruel Summer' together."
Hansen said everyone appeared like they wanted to be there and no one was left unimpressed. Buzan has desired to see Swift in concert since she was a child, leaving her extra excited to experience the show. 
"I'll always remember how cool it was to see her live and sing and dance to all the songs," Buzan said. "I always wanted to go to a Taylor Swift concert when I was little so I got to fulfill that dream,"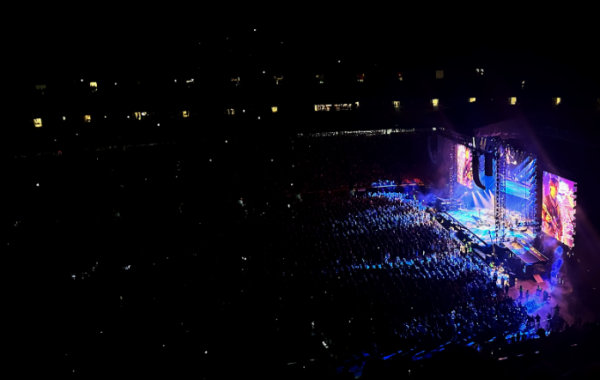 The blazing sun beats down on seniors Peter Dessert and Peter Vani as Stevie Nicks sings her first song of the night, 'Outside the Rain' at Arrowhead Stadium on one of the last nights of summer. 
The tour, "Two Icons One Night," came to Kansas City on Aug. 19 and still lives in the hearts of the attendees. The tour officially began on March 10 in Los Angeles and is scheduled to end Nov. 10, making it an eight-month-long tour. 
Dessert and Vani attended the concert in 98-degree heat, causing their outfits to align with the theme as well as the weather. Vani experienced health complications before the concert but still attended. 
"I wore pretty light clothing," Vani said. "I had just gotten sun poisoning and was at the ER for three hours before but we still went." 
Dessert wore baggy jeans, a thrifted T-shirt and Adidas Forums to complete his look. Originally present at the concert mainly for Joel, Dessert's song of the night was performed by Nicks. 
"Probably 'Just The Way You Are' or 'Gypsy' by Stevie Nicks," Dessert said. "'Gypsy' was really good."
Dessert's mother, who also attended the concert, won tickets to the concert by entering a radio contest. As caller number 12, she called in just in time to capture seats. 
 According to Dessert, he disliked the crowd holding out their phone flashlights as it made the moment cliche and occurred for too many songs. 
"I never turned my flashlight on," Dessert said. "You should only do that for one song the whole time. It's just so corny." 
According to Vani, songs such as "Vienna" and "Piano Man" connected most with the audience. Nicks and Joel also performed the songs "Landslide" and "Stop Draggin' 'My Heart Around' in memory of former Fleetwood Mac singer and keyboardist, Christine McVie and former tour partner, Tom Petty.
"I loved 'We Didn't Start A Fire' because of all the projections," Vani said. "But 'Piano Man' was obviously everyone's favorite." 
On Zach Bryan's final stop on his 2023 "Burn, Burn, Burn," tour sophomore Kierstin Moore dances and sings to her favorite song 'Revival' at the end of the concert. 
The tour came to Kansas City on Aug. 30 in the T-Mobile Center according to Fox 4 Kansas City News. Bryan's fans broke the attendance record with 19,659 people in the crowd. 
 "My favorite song that he played was 'Revival' because he introduces everybody in his band and it is just one giant party," Moore said. " He played 'Revival' for almost 15 minutes at the end of the show and it was an amazing way to end the concert."
Moore and her friends sat on the top level in the T-Mobile Center but said that the tickets were well worth the price.
"We had a good group of people in our section and could see him really well," Moore said.
 While Moore was on the top of the stadium junior Mia Donohoe had a different experience.
 "I purchased my tickets last minute and actually ended up on the floor,"  Donohoe said. "The tickets were expensive but definitely worth the price."
 Bryan's music career has skyrocketed this past year and is now one of the most popular country artists of the year. He has sold out multiple shows including the one in Kansas City, and just announced his "The Quittin' Time Tour," for next year and people are scouring to get tickets.
 "I am hoping to get the presale code for the concert next year," Moore said. "I know the tickets are going to be expensive but I love him so much as an artist that I don't care about the price."