Teenage girl and her dog try to stay healthy during an epidemic
The neighbors on 112th Street watch as they see the same curly headed girl and fluffy white dog walk by. Every day around lunch time, A'myrah Cheadle and the fluffy white dog named Zuri go for their daily stroll around the neighborhood in Kansas City, Missouri. 
"A'myrah gets as much joy as Zuri does everyday during their walk," Cheadle's mother said. 
Cheadle and Zuri have been walking every day since around the middle of March. 
"My dog and I started walking every day ever since the state of Missouri issued for everyone to stay at home to protect themselves from the Coronavirus," Cheadle said. " It's a great way to get exercise." 
With people on lock down in Missouri and other states because of the coronavirus, Cheadle said it can be nice finding ways to still stay active while many places including gyms are closing. 
"Taking a run around your neighborhood is a great way to still stay fit while on lock down from the virus going around," Cheadle said. 
People do wonder if it is safe to run, walk, or jog outside because of how the virus can spread. 
"You can make it safe to run, walk, or jog outside by staying more than 6 feet away from people," Cheadle said "I also make sure that I wash my hands once I get back to my house from walking my dog around my neighborhood."
Every day Cheadle makes sure that Zuri gets the freedom she needs by venturing out into the neighborhood instead of letting Zuri simply run around the backyard. 
"Having Zuri walk with me every day helps calm me from all of the issues with the virus," Cheadle said. "I also think that having Zuri go on walks with me helps her have more happiness."
Cheadle explained that the best thing to do during the virus epidemic is to do activities that make her happy but still make sure that she stays 6 feet away from people. Cheadle found out that walking, jogging or running outside every day is a good way to maintain health. 
"During lock down it is key to making sure that you're healthy", Cheadle explains " It's good for your health to get a breath of the outdoors every day."
About the Contributor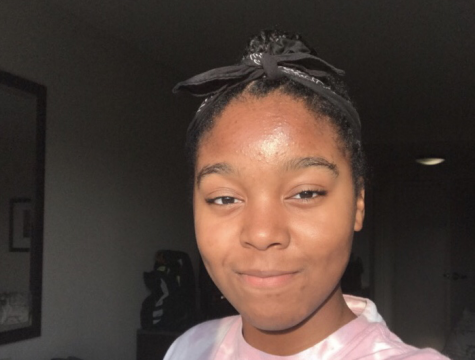 A'myrah, Staff Writer
A'myrah is a freshman in high school. She enjoys writing investigative stories and designing. Outside of school she enjoys playing various sports and painting.