Dress Code or No: Students compare their experiences with the uniform policy
Style is what makes a person stand out from others and have freedom of fashion, but in some cases, style is what gets students dress coded. 
Untucked shirts, open-toed shoes and colored hair cause students to receive punishments based on their clothing choices.
"Pretty much every detention I've had has been from either wearing a sweater, my shirt untucked or piercings," senior Joaquin Barrera said. "It won't affect how we do in school."
According to an online survey of 157 responses, 71% of students are not in favor of the school's dress code.
"It is really strict," junior Zuzu Moore said. "The big thing about expressing yourselves is clothes, and we don't really get that option." 
Although the majority of students are not in favor of the dress code, there is still a significant minority in favor. The remaining 29% of students like the dress code as is. In favor of the dress code, junior Marialuna Schreiner Cintrón feels that it allows all students to feel included.
"If we didn't have a dress code, people would be competing," Schreiner Cintrón said. "When you wear the same clothes, no one can tell who's poor or who's richer than you." 
Moore, a transfer student new to Miege this year, said Catholic schools are more persistent in enforcing dress codes than public schools. 
"Catholic schools have uniforms and public schools don't, but it is still strict about what you are allowed to wear," Moore said.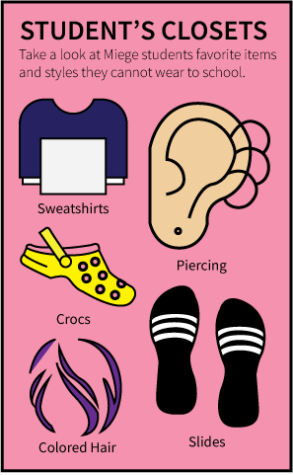 At school, boys are not allowed to have any visible body piercings or hair longer than their uniform shirt's collar. Despite weather conditions, male students are required to wear pants throughout the school year. According to freshman John Tucker, restrictions on a certain gender should not be a thing.
"I don't feel that it's fair towards everyone." Tucker said. "Boys should be able to wear shorts." 
According to junior Will Baska, having a uniform helps him to easily put together what he is wearing each morning. 
"I don't think it's overly harsh on anybody," Baska said. "It's not ugly, per se, so I think it's fine." 
While still abiding to the school's rules on dress code, girls have the ability to wear khaki pants or skirts and both genders can add accessories to expand on their regular uniform. Along with accessories, students have the freedom to style their hair as they choose.
"People can wear their hair basically how they want," Schreiner Cintrón said. "The administration is not strict about that, which is really nice."
Barrera said he feels that changing the discipline of dress code to be more similar to what high schoolers wear outside of school would benefit many students. 
"I would just make it more lenient with outside-of-school attire and punishments," Barrera said. "School uniforms make it a lot more boring."