Chowdown during Lockdown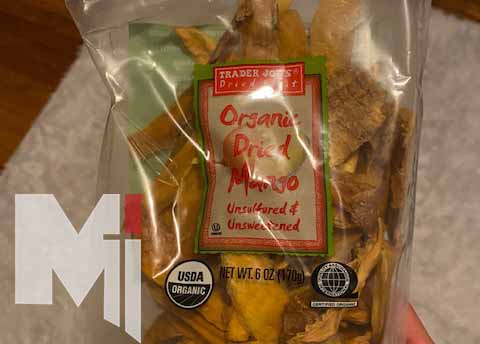 After hearing the glorious news that I would be returning to Miege, I began reminiscing about my experience as a remote learner. It has had both its downsides and upsides; however, one large motivator to remain positive has been: Snack Foods.
 During the extent of my remote learning experience, I have been able to try a multitude of snacks. Some of my favorite snacks include: Gushers fruit snacks, dried mango from Trader Joe's, cupcake flavored goldfish and my personal favorite- Strawberry Jello. 
Gushers fruit snacks have provided me with both nostalgia and energy to persist through the day. Each box is $2.29, and comes with six individual packages of snacks with about 12 pebbles of flavored goodness inside. Gushers offers a variety of flavors including tropical, sour and classic. These were the perfect snack to enjoy during my stag seminar breaks. 
Gushers can be found in the fruit snack aisle in close proximity to Welch's snacks. These dime-sized drops of heaven are filled with a sweet, runny filling that blends well with the chewy exterior. Fair Warning: These snacks are high in sugar and should not be consumed on a regular basis. Eat everything in moderation. I would recommend this product to anyone who wants a piece of candy with a twist. 
Next, dried mango. At first, I was hesitant to try anything from Trader Joe's because I feared I would accidentally become a healthy eater, but after tasting the sweet and salty combination of the mango, I realized I was open to the idea of being slightly healthy. 
Each package is $3.99 for a 6-oz bag of bright, orange mango. The texture is dry, and there are two variations: sweetened or unsweetened. The mango has a tendency to stick together, but the peeling is a small price to pay. The consistency is tough and might take a few minutes to chew, but provides nutrients and vitamins. I would recommend this product to anyone who enjoys eating fruit and to anyone who enjoys sweet and salty food combos. 
Next, Goldfish, which have been deemed "the snack that smiles back," and the cupcake flavor adheres to its promise. A small bag of cupcake flavored goldfish costs $1.89, and are perfect if you want something sweet and savory. 
The goldfish have a graham cracker consistency and the cupcake flavoring is similar to generic "cake batter" flavoring. These scrumptious snacks can be found in the cracker aisle alongside regular goldfish. I would recommend this product to anyone who wants a baked good, but doesn't want the task of having to make them. 
Finally, the best for last. As long as I can remember, there has been a discourse over Jello, and if it is delicious or disgusting. I was hesitant to begin eating Jello again after an incident involving straws and jello, but figured it was worth a try. 
Strawberry Jello kept me afloat and positive all throughout remote learning. Each individual cup of Jello comes in a pack of four for the price of $2.50. While strawberry was my favorite, Jello has many flavors such a lime, lemon, orange and is offered in pudding as well. 
The gelatinous consistency was fun, and gave me a sense of childlike wonder as I sat and ate it. Each bite was cool and refreshing, and helped keep me cool during classes. All in all, worth the try if you love staying cool, and trying new textures.