Craving Kairos: Senior retreat looks different this year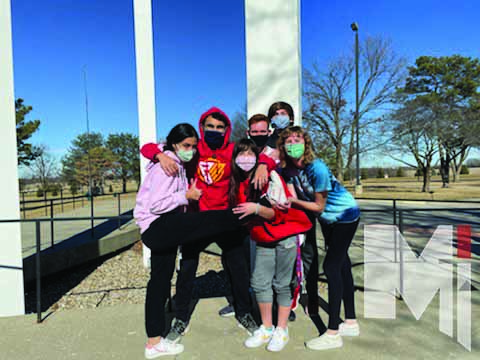 Each year, seniors look forward to going on the notable Kairos retreat. Due to COVID-19, the question of whether this year's seniors would be able to go was up in the air. And if they could go, what would the retreat look like?
Kairos director Bill Creach said he tried to stay optimistic, but was apprehensive about how the virus was going to affect the retreat.
"Physical and emotional closeness are key factors in the retreat," Creach said. "And it gets expressive. There's a lot of hugging; sometimes I nickname it a hug fest. And so, what's Kairos without the hugs and the closeness?"
Senior Kairos leader Amy Patterson agreed that being farther apart from classmates affected the retreat, but that in the end, it was beneficial.
"There [was] a lot more separation and distance that people were feeling," Patterson said. "But I feel like that also helped add to the overall experience … because there was this further separation that only brought us together more."
Creach said that although they were not able to hug and had to be farther apart from one another "the magic still happened."
"I'm happy and relieved that all the great stuff happened," Creach said. "All the silly stuff, all the serious stuff, all the emotional stuff, just a whole combination."
Several adjustments had to be made for Kairos to happen. It was originally meant to take place last August, but due to the pandemic, it was postponed to January. The six leaders of this Kairos went as juniors in February of last year.
"
"I'm happy and relieved that all the great stuff happened. All the silly stuff, all the serious stuff, all the emotional stuff, just a whole combination.""
— Kairos Director Bill Creach
"It's a whole different experience than when you went on the retreat yourself," Patterson said. "It's like a whole new layer to the Kairos experience."
The leaders and Creach said they were all grateful that the retreat was able to go on, even though it was not exactly like previous ones.
"I really enjoyed my experience as a leader," senior Kairos leader Daniel Fontaine said. "It was very different, obviously, with COVID adjustments, but I still enjoyed my time."
According to Patterson, being on Kairos and being a leader is tiring, but worth every bit of it.
"I got maybe a total combined five hours of sleep over the four-day process, so I always had an energy drink in my hand," Patterson said. "It was very draining, but very, very rewarding."
Being a leader is not the easiest thing to do, as the leaders describe, and they had to learn how to get used to their job.
"For people being a leader, you just have to realize what you're going into and just accept it," Fontaine said. "It might be a little bit uncomfortable, but it's fine."
Typically, there would have been at least three retreats by now, but this Kairos is the first one this school year. Creach considered his options for the next Kairos and its leaders before making his final decision.
"I've got some different scenarios to try to figure out," Creach said. "But definitely, I'm hoping we're back to normal next year so that we can have that August retreat for the class of 2022."
Some of the options include holding a couple more retreats before the end of the school year and bringing juniors along to prepare to be leaders, or focusing on having as many of the seniors go as possible and bringing alumni back to be leaders next year.
Creach said his goal is to have at least one or two more retreats this year to make up for the one's missed, so that seniors who want to take part in the transformative retreat are able to.
"[On Kairos] we focus on three relationships: relationships with each of us with ourselves, each of us with the people in our lives and each of us with God," Creach said. "I think the retreat is a great way to meet people, get to know yourself better, but also work on you and God as well."