Book Power: Top recommendations offered by Harry Styles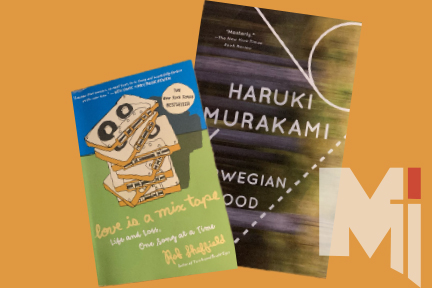 Sometimes it's easy to forget celebrities are just like us. I tend to have the mindset that celebrities are too busy to do things normal people partake in.
Celebrity book lists have proved that very wrong for me.
Social media has really changed the game for learning about celebrities' favorite things and activities. On Instagram, I've been able to learn Kendall Jenner's newest read and the Obamas favorite music.
Social media is actually how I found out about Harry Styles book list.
For those who may not know me, I absolutely love Harry Styles. So when I saw his book list I immediately felt the need to read them.
I have to say, he has a very interesting taste in books, but I can say that I enjoyed most of the ones on the list. I want to recommend some of my favorite books on the list for a good read.
"Norwegian Wood" by Haruki Murakami
"Norwegian Wood" is one of my favorite books recommended on his list. I don't think I've ever felt as many emotions before as I did reading this book.
The book is about a quiet man named Toru who is devoted to his friend Naoko, but their mutual love is stained by the death of their best friend. While Naoko struggles with the pressures of life, Toru reaches out and connects with others.
I would not recommend this book for some people as the contents are very depressing, but I enjoyed how real the book was.
It's definitely one of those types of books that leave you stunned and feeling raw, something I was not used to feeling after reading a book.
Before you read this book, you should read another one of Haruki Murakami's works because this is definitely not the book to read to be introduced to this author.
"Love Is a Mixtape" by Rob Sheffield
"Love Is a Mixtape" is probably one of my favorite books I've ever read. Everything about this book makes me want to cry and feel melancholy for the author.
In this memoir, he writes about the love story between him and his deceased wife, Renee, through their mixtapes to each other.
Something that enhanced the experience of this book was listening to the song that each chapter had to go along with it.
I loved reading this book and following their bittersweet romance. It definitely made me feel single, but also it made me appreciate the people in our lives who bring us joy, even if our moments together are fleeting.
If you read any book on the list, this is the one to read.
"The Course of Love" by Alain de Botton
After reading this book, if you didn't know Harry Styles is a romantic, you do now. This book is the story of a married couple and their complicated relationship arc and shows the struggle for a "happily ever after."
This is another one of those breathtakingly real books that punch you in the face.
This book faces what it takes to maintain love and the author's philosophical beliefs on love.
After reading this, I had food for thought for days as I even took time to reevaluate my own ideals. The biggest takeaway from this book is that even if we struggle, love will prevail, which is heartwarming in itself.
After reading all these books I realized that there's so much we don't know about our favorite celebrities.
If I didn't look into these, I don't think I would have ever realized just how much of a romantic Harry Styles is and how much of a philosophical thinker he is.
I would definitely recommend checking these books out and reading some books that your own favorite celebrities read.