Underwater Teamwork: Strong bonds resulted in added swim dinners, effort
On the surface, swim may seem like a singular sport. Competitors stay in their own lane, rely only on themselves, and merely compete against the clock.
However, the boys swim team claims otherwise.
"Most people think that swim is an individual sport, but it is a team sport," senior swimmer Blake Allen. "It's so important to have a good connection with your teammates."
As the season progresses, it has become more vital for the team to develop strong relationships with one another to succeed.
"We've all had better times this year at our first meet than we did at state last year," Allen said.
Veteran swimmers like Allen have witnessed the team growing stronger compared from this year to last. According to him and others, the key has been closer bonds among swimmers.
For sophomore swimmer Ruben Hernandez, his friendships with the fellow swimmers have grown in just traveling with the team. From carpooling to practice to long drives for meets, getting food and discussing goals connects him with his teammates.
"Blake Allen and I drive to practice together a lot, and I really think that it has made us closer," Hernandez said.
Time is the biggest bond that the swimmers share.
"You're kind of forced to get closer with your teammates," Allen said. "The tournaments and practices are further away, so you are spending a lot of time with the other swimmers at meets and on car rides."
Beyond required meets and practices, the team has recently implemented team dinners to strengthen the team's relationships with one another.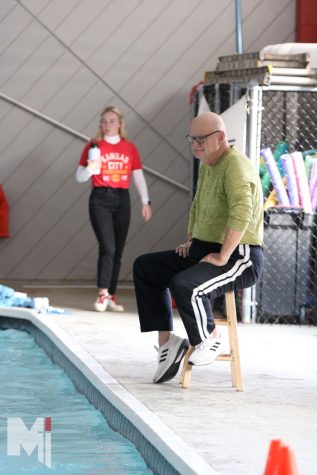 "The dinners are assigned sometimes; we've had them at Max Smith's and Carter Steven's house," Hernandez said. "They really help with communication and growing friendships within the team."
After these dinners started, more success was seen in the pool.
"After Carter Stevens hosted dinner, it seemed like there was better performances from everyone," Allen said.
According to Hernandez and Allen, the team dinners resulted in a better team bond, which then caused success in meets.
For state this year, nine swimmers total and three relays competed.
"I'm excited to see the progress we made from the beginning of the season to now," Allen said.
The bonds between swimmers play an integral role in making record times in the pool. Prioritizing the team relationship has created a great season overall, according to Allen and Hernandez.
"We definitely started off a little hesitant to be close to each other, but I can tell that we are really getting along now," Allen said.