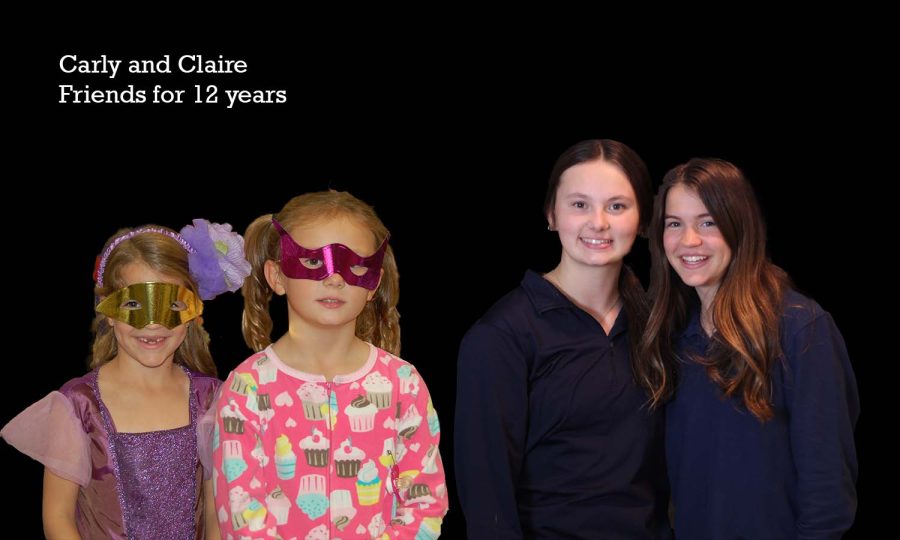 Significance of friendship: Long-term friends reflect on the journey of their relationships
Sitting on the playground 12 years ago, junior Adrian Villegas sat quietly and watched the other kids play on one of the first days of preschool, and he did not recognize a familiar face. Junior Dallin Tatum offered Villegas goldfish, and the rest is history. 
While some friendships fade away as changes arise, others grow stronger as they evolve over time. 
After meeting at Saint Patrick Catholic School, Tatum and Villegas have maintained their friendship for the past 12 years. The preschool friends still hang out on a regular basis, according to Tatum.
"We hang out about every weekend usually," Tatum said. "It just depends on what we're doing and who we're hanging out with." 
Villegas said the pair fights all the time and always finds a way to bounce back. The boys said they have the same favorite memory.
"My favorite memory together is when we were riding bikes with our friend Pablo, to go get something to eat, and then it started raining horribly," Villegas said. "We had to go up a giant hill on bikes when we were in eighth grade going to Go Chicken Go."
While Tatum and Villegas grew up together, freshman Maggie McCauley and Elise Robinson met in seventh grade.
"We used to go to St. Agnes, and she transferred from her old school and came in the middle of seventh grade," McCauley said. "I introduced myself, and we met in class because she was in the same class as I." 
McCauley and Robinson's schedules sometimes interfere with their availability to hang out.
"We hang out pretty often in school because we have two classes together, but since she has back issues and then she also has horseback riding and I am a swimmer it's hard, but in school we are really good friends," McCauley said. 
The girls' have stayed friends for three and a half years and according to McCauley, their friendship is filled with trust and loyalty.
"I think me and her are really humble and kind with each other because I feel like we bring each other up when we are down and whenever we need it," McCauley said.
Whereas McCauley and Robinson met at St. Agnes, sophomores Claire Wicker and Carly Kurt were members of St. Joseph Catholic School. According to sophomore Wicker, her 12-year friendship with Kurt has maintained an understanding and strong connection. 
"We can tell each other anything, and we can always comfort each other when we're having any problems," Wicker said. 
Communication is an essential part of friendships, Kurt said. 
"I remember there's been a couple lunches where we just sit in a group, and you just can't stop laughing," Kurt said. "Just talking to each other all the time just really helps each other." 
Over the past summers at the lake, Wicker and Kurt have enjoyed making memories and strengthening their relationship. 
"We just have a really good time," Wicker said. "We've known each other for so long so we have a deeper bond."