Bring it Back Now, Stags: Male yell leaders return for the first time since 1991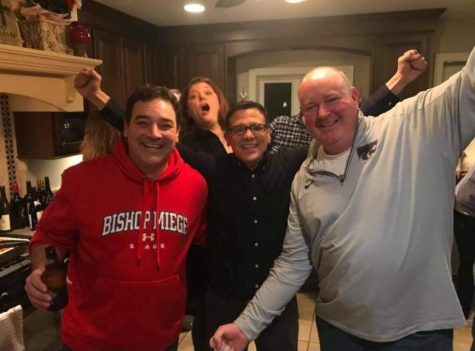 One. Two. Three. Up. Down. Along the sidelines, pyramids of cheerleaders guide the student section in chants, which students have repeated for years, but this year there are a couple of new additions to the team.
According to The Hart, for the first time since 1991, there are boys cheering on the team. Previously, male cheerleaders, more popularly known as yell leaders, had their own section on the sidelines at athletic competitions, but due to a decrease in interest, yell leaders became a thing of the past until this year.
"I've always had an interest in cheer, but I never thought I would have the chance to do it," senior Adrian Villegas said. "When the chance came up, I was like, 'OK, I'll try it."
According to assistant cheer coach Taryn Frank, reinstating yell leaders has been in the works for the past two years.
"I had a lot of guys in class who said, 'It's never going to happen' and when it finally did they were like 'Oh, maybe I will try out,'" Frank said. As a member of the cheer team for four years, senior Ava Fortin said she thinks the addition of boys has opened the team up to more opportunities.
"Partner stunting with me and Adrian was definitely one of the hardest things I've had to learn on the team, and it can be super frustrating," Fortin said. "Adrian and I have definitely formed a special bond through it — there is a lot of trust between us which helps me to not be scared and helps him to focus on working hard."
According to Athletic Director Joe Schramp, the recent spark in interest led him and the coaches to discuss the possibility of opening the team up to boys.
"This year, we had a couple of boys who were interested," Schramp said. "They are leading the chants, and I think that is good."
Due to the push for the return of yell leaders by students and her witness to other schools growing their cheer programs to include boys, Frank thought it was a good time to push for it.
"I was overjoyed, because I have been asking since freshman year," junior Alex Smith said, "I wanted to join just because I never got to do extracurricular activities in middle school, and it was just something fun and new and exciting. It's kind of athletic, which I am not."
In only a short time, male cheerleaders have made a positive impact on the team, according to Frank.
"Especially in stunts, male cheerleaders can do a lot more stunts lifting girls," Smith said. "They are a very strong base to build off of."
As a senior, Villegas said he is looking to make the best out of his short time on the team, and has already gained life-long memories and experiences.
"Everyone is very accepting of having a boy on the team," Villegas said. "I feel very welcomed by my teammates and coaches. My best moment so far was getting an All-Star nominee at RNC, a cheer camp, which would allow me to audition to be an All-Star cheerleader."
While the team's season has just began, Fortin said she hopes members will continue to grow as a whole throughout the season.
"As a team, we have shifted more focus to making sure that everyone understands what the team will be trying to accomplish in the next few months," Fortin said. "I would like to be able to form strong relationships with each other and for us to become consistent and strong in our routines. It's definitely a lot of work, but I just would love to see us succeed at state this year."
According to Frank, the team has grown in strength and spirit with the boys adding their unique skills to the group. She said she hopes that all the members of the cheer team are able to bond and support one another throughout the season as they work towards state.
"With Ava and Adrian, when they are stunting, he's like a big teddy bear," Frank said. "He will catch her when anything happens."
Villegas and Smith are the only two boys to become yell leaders this season, but Frank and Schramp said they hope to see more interest from male students wanting to become yell leaders and bring their energy to the sidelines and continue to break the status quo of what a cheerleader looks like.
"As one of the first boys on the team, I want to inspire other boys to be on the team, and do what they want," Villegas said.