Striking Midnight: In her new album, Swift returns to the pop genre after two indie and folk albums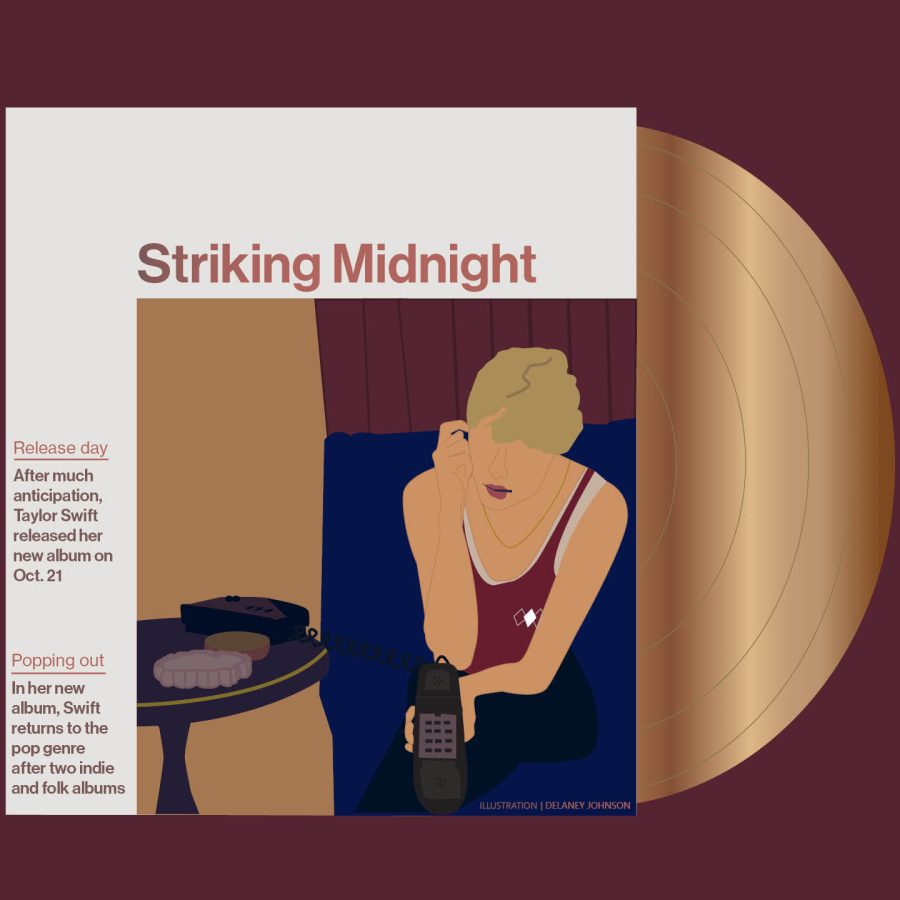 Beautiful, bewitching and relatable: ways I would describe the new album "Midnights" by Taylor Swift. The elegant word choice in her songs makes you take to heart what she is singing. In this new album, Taylor is speaking to everyone who will listen, each one of us finding something that relates to our own lives.
I have been a Swiftie since the first grade when I was first introduced to her music. I know every song of hers by heart and never miss an opportunity to turn her music on. Her songs give me advice and help me get through hard days. 
While listening to "Midnights," I heard similarities that reminded me of past albums like: "Lover," "Reputation," and "1989." Pop has found its way back to Taylor's albums after the Alternative style of her last two albums, "Folklore" and "Evermore". I'm definitely not complaining; with the mix of pop and her amazing capability to put so much heart into words, songs from "Midnights" will surely find their way onto your playlists. 
"This is a collection of music written in the middle of the night, a journey through terrors and sweet dreams," Swift said when announcing the album. "The floors we pace and the demons we face. For all of us who have tossed and turned and decided to keep the lanterns lit and go searching — hoping that just maybe when the clock strikes twelve … we'll meet ourselves." 
And that is exactly what happened when I listened to the album at 11 on the dot thanks to being in Central Time. I related to the emotions she conveyed through her songs, singing about how actions have consequences and people receive what they put out into the world. All the songs of this album convey a deep lesson that I connected to. 
As I took in each track, I found it hard to narrow down which songs I liked best. It came down to my personal preference for music style and what I related to the most. So, here are my top three favorite songs from "Midnights." 
Number three on my list is track 13, "Mastermind." This song is for anyone who works really hard to appear effortless when it is most definitely not. I loved when she sang, "I laid the groundwork, and then just like clockwork, the dominoes cascaded in a line." To me, this line is related to when I work hard to set myself up for success, and in the end, I can sit back and reap the rewards. 
For spot two, I choose track five, "You're On Your Own Kid," because of the sentimental value of this song. I think everyone in their life has felt out of place. You can interpret the line of "I didn't choose this town, I dream of getting out," each in your own way because everyone has a circumstance they didn't choose, but have to overcome alone. 
And finally, the number one spot goes to Track 3, "Anti-Hero."  This song is single-handedly everything I was hoping the album would be. It feels like I am listening to one big, beautifully written intrusive thought. If I can only scream one song from this entire album it is definitely "Anti-Hero." If I could quote every single word of this song — I would. My favorite line is, "I'll stare directly in the sun, but never in the mirror. It must be exhausting always rooting for the anti-hero." 
"
This beautifully written album has so much soul and emotion put into the songs. "
— Elaina Gibson
Not only did Taylor Swift release the initial 13 tracks, but at  3 a.m. she released, "Midnights (3 a.m. Edition)," gifting us seven more songs to fall in love with, and you better believe I was awake for it. This beautifully written album has so much soul and emotion put into the songs. 
Taylor Swift never disappoints, and she definitely did not with this album, leaving her fans delighted, shocked, and eager for what's to come.
Leave a Comment