Stitching for Service: Knitting and Crocheting Club sew a blanket for the elderly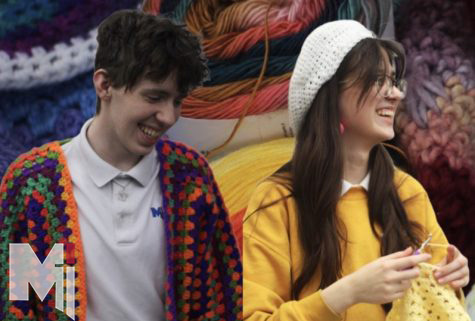 The intermittent rain of autumn compliments the slow fade into the winter season, leading junior Laine Liston to snuggle on the sofa, as she begins to crochet the stress away. Liston creates gifts for friends and family, but most recently of all — stitching up a service project for the Knitting and Crocheting Club to provide warmth to the elderly, as well as education on the essentials of the art.  
According to Liston, over the past two years as a member of the club, she has held high hopes for becoming a leader in the club's activities to boost the friendship between the members, regular meeting times and the start of new beginnings — like service projects. 
"It's not only that we're making things, but also that the club as a whole will get to know one another better," Liston said. "It will bring us together and everyone would work on it, so it would be like we all made it." 
Junior Alexander Smith, vice president of the club, said he holds a positive regard for how the club was managed prior to taking on a new role and intends to keep those elements intact while embracing new standards. 
"Last year there was much more talking and people got stuff done, but it was much more of a hangout," Smith said. "We still want to do that but also make goals and have a mission and clear path, which we are setting up right now."  
Smith and Liston plan to use granny squares, small crochet squares that will be sewn together, to bind the inner community within the school and the elderly at the Medical Research Center in the KCMO area. This will provide resources to those who do not have the resources to keep themselves warm this upcoming winter. According to Smith, Granny squares take about 10 to 15 minutes to make and will be the perfect introduction to the basics of knitting and crocheting. 
"The service project will obviously have a lot of knitting and crocheting, but as of right now we are pretty sure that it will be a blanket," Smith said. "If it is a blanket, it would be about 50 to 100 squares of patterns and designs all sewn together into a blanket." 
Smith and Liston find that knitting and crocheting show a level of dedication and thoughtfulness that opens the club to opportunities outside of the school, while building up the abilities and relationships of all members. 
 "It is a very gift-giving type of craft, you generally want to share it with people," Liston said. "It's a good way to get closer to the people around you as well as the community."