What a Burger!: Sophomore Julia McCaffree reviews new Whataburger location on 113th and Nall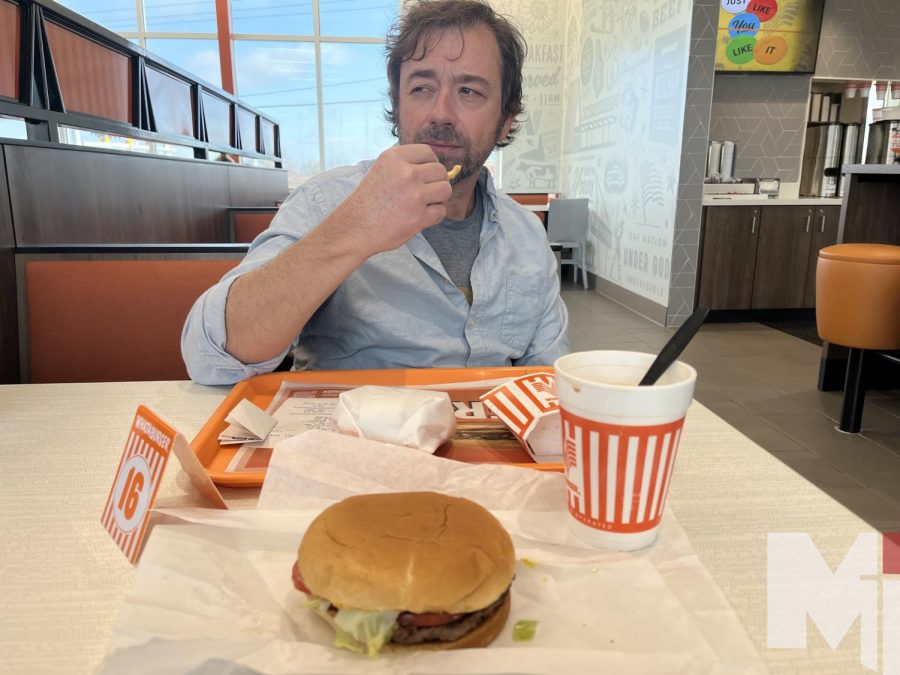 "
They want you to be able to have your meals the way YOU like them."
— Sophomore Julia McCaffree
Whataburger, a small burger stand that started in 1950 serving "bigger, and better burgers" has started to expand locations and increase the franchise. Patrick Mahomes, the Kansas City Chiefs quarterback, helped bring the Texas-based chain to the KC Metro area, where we now have six total locations.
The location under review: 11300 Nall Ave, Overland Park, Kan.
Upon entry the restaurant was in very great condition. The floors were clean as well as all the tables and seating areas. The layout of the room was appealing, and there were lots of places to choose to sit while still not being crowded together. High top bar, booths and regular tables were all seating options. 
Let's talk service. The second you walk in the door, you are greeted with smiling faces. When you walk up to order, they are very kind and polite with taking your order quickly while still having time to ask you how you are. After you have received your number and have had time to settle where you are sitting, your food is pretty much ready. They will deliver the food to your table and then bring a sauce platter to you asking you if you would like any, and if so, what you would like. They offer many sauce choices which they have formulated themselves, such as their spicy ketchup and creamy pepper sauce. Then you are asked if you need anything else. Overall, the service at this location was amazing. They were very personable and seemed to check all the boxes for the kind of people you want serving your food. 
The "bigger, and better burger" in question. For my meal, I ordered the original burger – a #1 (Whataburger) with no onions and a chocolate shake. The menu describes a #1 Whataburger this way:  "What's On It: Large Bun (5″), Large Beef Patty (5″) (1), Tomato (Regular), Lettuce (Regular), Pickles (Regular), Diced Onions (Regular), Mustard (Regular".
 Whataburger is known for customization. They want you to be able to have your meals the way YOU like them. They have even created stickers they put on the outside of the paper they wrap your sandwich in with your preference written on them. So, mine had a yellow sticker with the words "no onion." You can get up to as many customizations as possible. 
Before I started eating, I opened it up and looked inside. It looked like a real burger rather than what you would usually get at a fast food chain. The lettuce and tomatoes looked fresh, and the meat was cooked to a good amount. After eating it, I can rate it a solid 8/10. Let me tell you why. It was not very greasy (which was definitely one of the biggest upsides), and the flavor was delicious. Was it the best burger I've ever eaten in my life? No, but was it the best burger I've eaten from a fast food chain? Yes.
 Now, the chocolate shake. I am very picky about how I like my shakes, and this one was good. It wasn't too watery, but also, not too thick so you were still able to drink it with a straw. The flavor tasted very homemade which I enjoyed, but it was VERY sweet. Now, I'm not a huge sweet tooth, but for someone who craves something sweet with a rich chocolate flavor, this would be perfect for you. 
After dining at this Whataburger, I would say it's definitely a place to go check out for yourself. With good service and great food they really built a solid franchise. I can see why Patrick Mahomes is so invested in bringing it to his new hometown. It is delicious  and when you crave it, it's a lot closer than driving to Texas.
View Comments (2)