Speak Up: Senior earns highest distinction for speech and debate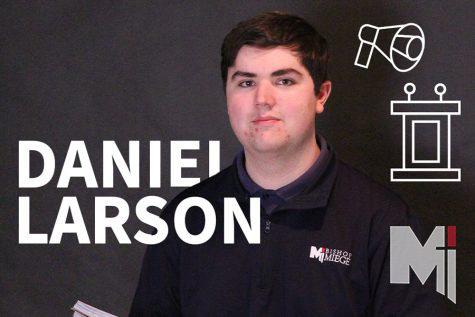 Waiting to give an impromptu speech, senior Daniel Larson finds himself surrounded by students practicing towards the wall as they prepare during a forensics tournament. Larson has been a member of both the debate and forensics teams since sophomore year and recently earned the level of Superior Distinction from the National Speech and Debate Association.
Superior Distinction is given to students who have earned 1,500 points when competing in various debate and forensics competitions. Larson recently earned 1,504 points, earning him this distinction on top of his rank as 27th in the state of Kansas.
Larson has enjoyed speaking from a young age. According to Larson, he found his love for debate during a grade school class.
"In social studies class, we debate bracket challenges where we would be given an important figure in American history, and we'd have to debate other people who had different figures," Larson said. "I really enjoyed doing that at St. Agnes, and I thought, 'Hey, this might be the same.'"
Larson said participating in speech and debate has shaped him in many ways, including how he presents himself to others.
"I'm definitely a lot more confident when I speak publicly," Larson said.
Larson participates in debate tournaments along with the events of congressional debate, public forum debate, domestic extemporaneous speaking and impromptu speech in forensics.
On top of presenting speeches and arguments, Larson said he enjoys the unpredictability of having a negative argument in debate or participating in extemporaneous speaking in forensics.
"I don't want to call myself an adrenaline junkie, but honestly, I kind of am," Larson said. "You get a rush from giving a speech off the cuff when you have very little to go on."
Along with his other personal accomplishments, Larson had the opportunity to participate in the National Speech and Debate Competition in Louisville, Kentucky during the summer of 2022. According to Larson, these opportunities have allowed him to connect with students with similar interests.
"It's a pretty tight-knit community," Larson said. "At the end of the day, we all respect each other and enjoy doing this weird activity."