Pasta-tively Amazing: Jovito's Italian Deli & Cafe has a great environment and even better food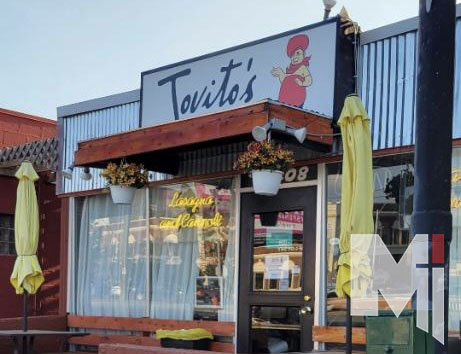 Pizza and pasta – those are the first two things that typically come to mind when someone mentions Italian food. After trying Jovito's Italian Deli & Cafe that image has changed. 
Now I picture yellow umbrellas and paninis.
I have lived in the Waldo neighborhood in Kansas City, Missouri, my whole life, and one of the best things about is the unique variety of foods and local shops. One of the newer additions to the area is Jovito's Italian Deli & Cafe. Jovito's moved to the Waldo area in early 2021 from a small strip mall on Stateline Road, and I can verify it does not disappoint.
Located on 7408 Wornall Road, right next to City Gym, it is easy to miss the quaint shop, but once you have been you won't miss it again. Jovito's offers a plethora of delicious traditional Italian comfort food. They have everything you would expect like pizzas, pastas, salads and sandwiches, plus more unexpected foods, such as paninis, grinders, calzones and gourmet hot dogs and sausages.
The atmosphere in Jovito's is incredible, and I felt it as soon as I stepped in the door. The inside of the deli/cafe is cozy with lots of personality. The KC posters, mismatched furniture and shelves of books and ingredients give the shop a homey feel that adds to the authenticity.
One definite drawback of the restaurant is the nonexistent indoor seating for eating. After ordering there is plenty of room and comfy seating inside, but there are no tables to eat at. While they have adorable outdoor seating options that are great when the weather is nice, I would definitely recommend ordering carryout if the weather is unpleasant.
The kindness of the staff and workers definitely adds to the positive atmosphere as well. You can tell the staff cares about the restaurant, and they are extremely generous and understanding. When a worker saw my 8-year-old sister ogling the colorful display of cookies, he immediately asked if she wanted one and gave her one for free. This personal gesture made us feel so welcome and meant even more knowing this was a small local business.
Prices vary depending on what you get, but costs around $13 for an entree, chips, and pickle, making it a little pricy, but totally worth it. I got the Muffalini panini, which consisited of salami, ham, pepperoni, mozzarella, provolone, olive spread and Italian dressing all between an Italian roll. It tasted delicious. The bread was warm and soft with just enough crunch, the meats, cheeses and olives blended beautifully and once paired with the meat sauce it was magnificent. It definitely filled you up, but the great flavors left you craving for more.
In an area full of small unique hole-in-the-wall eateries, Jovito's Italian Cafe & Deli has definitely begun to make its mark. It has hooked me and can easily hook many others with their cozy vibes and sensational food.