The halls usually grow quiet over the summer but not this past break. Construction of many new additions to the school occurred over the last few months; one specific feature has reinvigorated the engineering path in the science department. 
The new Joseph Pedrotti Innovation Lab on the second floor has given not only more resources to the engineering department, but also made it much more efficient for all teachers to get things done.  
According to Dr. Jackie Arico, project studio coordinator, her role in the lab provides help to teachers in technical aspects. 
"I'm not doing the lesson planning so much as I'm helping teachers who have an idea of a lesson plan that they want to do and how to use the tools in this space," Arico said.
J.C. Clark teaches Principles of Engineering in the lab and said that his favorite part of teaching in the space is that he is able to try new things with his students. 
"That is really exciting for me and the students to be able to push into more complicated and more detailed projects," Clark said.
Along with Arico and Clark, Stag Robotics coach and science teacher Scott Anderson has also taken advantage of the new tools the lab has to offer, specifically when it comes to the robotics team. Anderson says that now everyone can use the technologies that the robotics team had.
"This is stuff that is specific to the engineering department, and having it in the building just a few steps away will make things so much nicer," Anderson said.
For senior Benjamin Frey, his last year at Bishop Miege has him in the Innovation Lab twice on his "A" days. He takes AP Physics with Matthew Peterie and Honors Aerospace Engineering with Anderson. His classes in the lab make learning fun.
"I love both classes," Frey said."Physics is fun because it's such a small class, there's only six of us in there. So you can really get in depth with Mr. Peterie ."
Frey is not disappointed that this is his only year when he gets to use the lab, though. 
"I'm just happy I got it for one year because other classes that would have been taken before probably wouldn't use it anyway," Frey said.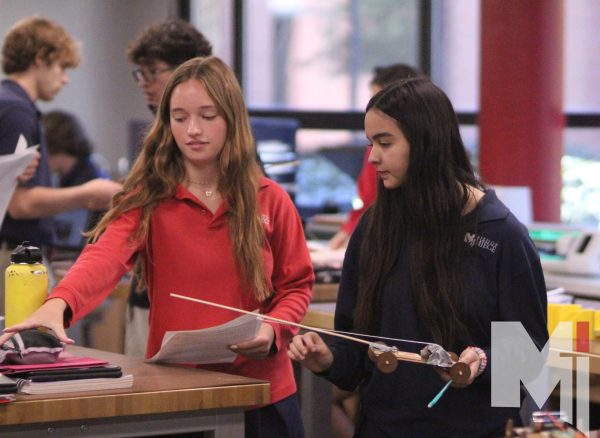 The new technology gives all teachers new resources, but Arico says it's more than just a new start. According to Arico, the 3D printer and the laser cutter open doors for new creations
"You can make decorative things with it. But you can also make really functional things," Arico said. "I made a hall pass for Miss Moylan, different things like that. It's awesome."
According to Anderson, he is excited about the opportunities the lab opens up for students, but also how it will start challenging teachers to get used to new tools they never had before. 
"I think it's going to change the way people start thinking about projects, which is cool," Anderson said. "And then it's also going to create a challenge for me as a teacher in that I'm going to have to step up my game a little bit."
Even young Miegians like freshman Arthur Czamanske are grateful for the lab and how it will make learning more in-depth. Czamanske takes Introduction to Engineering in the lab.
"I'd say it's very constructive and gives us more resources and a greater sense of focus," Czamanske said. 
According to Clark, what is most fulfilling for him is seeing how the lab facilitates the progression of God's creation and that he is joyful that students are excited to get in the lab and learn. 
"That's why I'm here to help empower students to feel confident in becoming who God calls them to be," Clark said.
Arico hopes that the lab will not only be a place for just engineering, but all faculty, staff, and students to come and build new things, discuss new ideas, and design new art. 
"I really think there's great value in students coming in to go through that design and problem-solving process," Arico said.