Weber to the rescue
This fall, after the extended break from school due to COVID-19, as staff members returned to their classrooms and responsibilities, Nancy Weber undertook a new feat. Instead of returning to her theology classroom she began helping teachers with technology.
"I'm trying to help teachers see where they can take their use of technology in the classroom," Weber said. "I just fill up my day with appointments with teachers and go in to meet with them during their planning period."
The part-time teacher used her time to help teachers in need of technology help. The new hybrid and remote learning systems were new to teachers which led to an expansion of the technology department.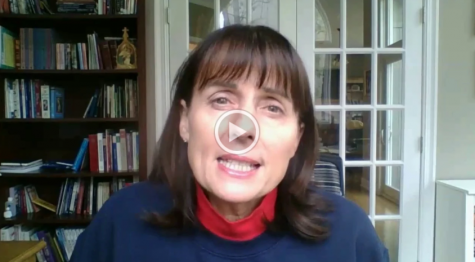 "I suggested to the school that we need the technology coach, and since I was working part time, I said let's do it," Weber said. "When the opportunity came this year where we had kind of an out of balance with classrooms and teachers so I decided to pitch in."
Weber mainly focuses on preparing teachers for online learning and the new changes that remote learning brought to the teacher's curriculum.
"I try to introduce different ways teachers can use technology in the classroom that supports their instructional strategy," Weber said. "We're moving towards design thinking as a whole, so I try to help teachers to come up with ideas so they can implement design thinking in the classroom."
Nearpod and science, technology, engineering and math (STEM)- based projects are some of the newer technologies that have become parts of Miege learning. These helpful learning tools were also the most common issues that Weber found when she was assisting teachers.
"We're really trying to get the school's STEM accreditation," Weber said. "To do that teachers need to be incorporating STEM principles or design thinking mindset in the classroom."
She also has discovered that teaching fellow teachers is much different than teaching students.
"I'm peers with them, that's a little more casual versus that formality that I have with my students," Weber said. "They even call me at home when I'm done working to ask questions."
Weber is enthusiastic about her new career path and has found many new things that will benefit the Miege community in the upcoming school years.
"I think it's really exciting, the STEM stuff that we're going to be doing here is going to help benefit all the students," Weber said. "There's a lot of things planned, but we have to wait until COVID is over."