The Charli D'AmeliNO: TikTok star is in the media again after launching own drink at Dunkin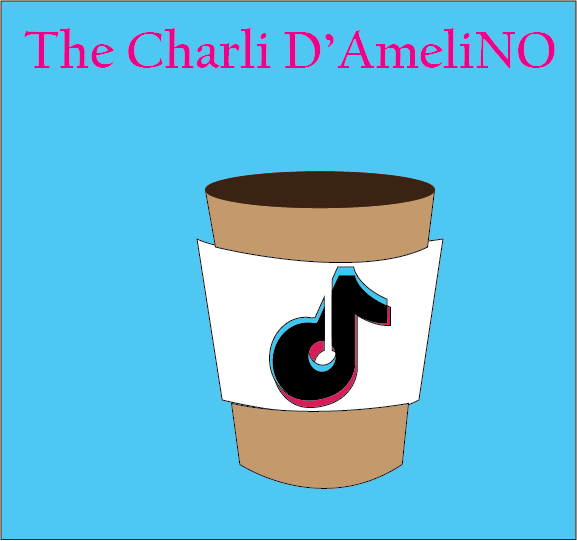 Tiktok is an obsession for many teens, including me. I spend hours scrolling through TikToks every day. Similarly to most teens, I always want to try new recipes that are shared by creators. My friends and I have tried different food trends, including an oreo mug cake and homemade frozen yogurt drops. After seeing Charli D'Amelio had recently released her own coffee drink at Dunkin, I knew I had to try it.
Charli D'Amelio, a worldwide famous 16-year-old, got her start on TikTok, a social media platform previously known as Musically. Now, the teen sensation is branching out from the screen and sharing her love for Dunkin with all of her followers by launching her own drink, The Charli, for a limited time. 
Having  almost 100 million followers, D'Amelio is the most followed TikToker. On Sept. 2, D'Amelio released her go to Dunkin order that she has ordered  for years – a medium cold brew with whole milk and three pumps of caramel swirl. 
After hearing the praise that The Charli received on TikTok, I had high hopes for the beverage. I went to Dunkin and purchased a medium which costs about $3.19 and was looking forward to having my first sip. 
However, D'Amelio's signature drink was not my favorite. I think that the ingredients in the drink do not mix well together. The cold brew was very bitter and too overpowering for the caramel swirl. I could only taste the caramel in the first sip, and after that I was unable to taste it. I think people who like strong, bitter coffee would like this drink; however, I enjoy sweeter, more refreshing coffees, so The Charli was not my cup of tea. 
Many teens have followed D'Amelio and started drinking The Charli regularly. These followers have shared their love for their new order, but I won't be purchasing The Charli again.